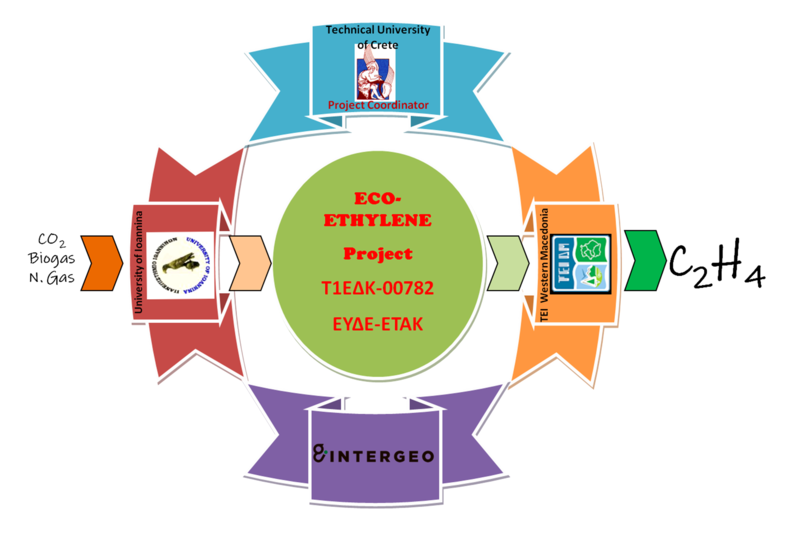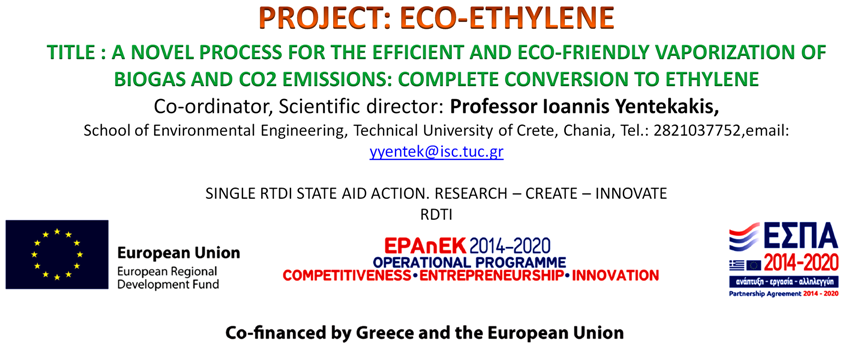 TOTAL BUDGET: 1.000.000 € , DURATION: 07/2018 - 06/2021
COOPERATING PARTNERS:
1. TECHNICAL UNIVERSITY OF CRETE: 275.000 €
2. UNIVERSITY OF IOANNINA: 250.000 €
3. TECHNOLOGICAL EDUCATIONAL INSTITUTION OF WESTERN MACEDONIA: 240.000 €
4. INTERGEO Ltd:

200.000 €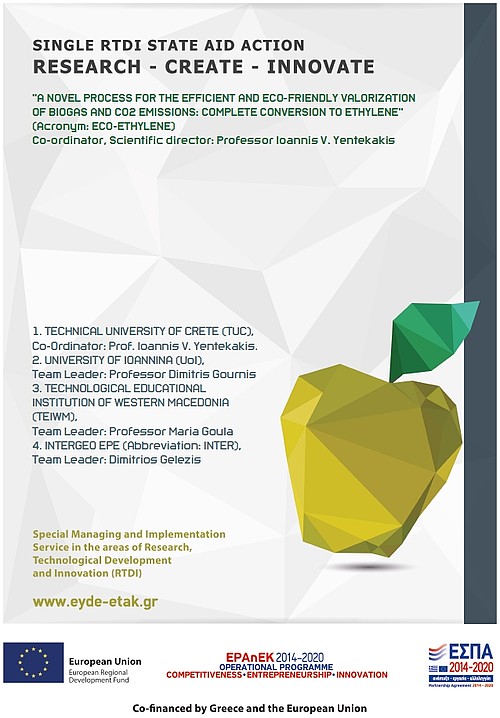 PROJECT OBJECTIVES
The present project is based on the close collaboration of one SME and three academic institutions with shared business and research interests that have united forces in order to develop, design and demonstrate in pilot scale, a novel, eco-friendly, automated process for the production of ethylene (C2H4) from the complete conversion of biogas (i.e., both CO2 and CH4 components), or from CO2 emissions.
Ethylene is a chemical of high added value and great economic importance, constituting the "driving force" of the petrochemical Industry, as it is used for the production of a variety of chemicals.
The new concept is based on synergistically interacting catalytic sub-processes that converting in one-step biogas (CO2+CH4), or any independent CO2 emissions, towards clean C2H4. The advanced design of the novel process overcomes the well known intrinsic constrains of the involved sub-processes, leading the system to offer very high ethylene yields.
The novel process will initially be applied on a bench-scale and after systematic optimization of the functional parameters it will be scaled-up to Pilot size with a capacity higher than one order of magnitude.
The operation of the Pilot unit will be demonstrated at the Technical University of Crete, the group of which conceived the novel idea and design and coordinates the project, using real biogas and/or CO2 as feed.
Inter alia, the project also aims at:
Producing new knowledge in the fields of heterogeneous catalysis, nano-materials and on CO2 methanation and Oxidative coupling of Methane (OCM) catalytic processes.

Promoting the efficient and effective involvement of the three research entities (TUC, UoI and TEIWM) with the participating SME (INTERGEO Ltd), the extensive exchange of knowledge and the fruitful collaboration.
Potential users of the Project's novel product are all biogas producing facilities, which provide the opportunity to, in situ, exploit the available renewable resources, as well as any plants that rely on fossil fuels for their heat generation processes, which unavoidably emit CO2.